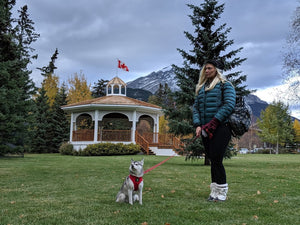 Limited time
New Pet Treats
Our wholesome and delicious P-Nutty bites are the perfect snack for dogs that love peanut butter! Our P Nutty bites are gluten-free and have ingredients YOU CAN SEE! And because they are made with Prebiotics and Probiotics, they are gentle on sensitive tummies.
Learn more
🐕 𝐃𝐎𝐆 𝐇𝐀𝐑𝐍𝐄𝐒𝐒 𝐀𝐍𝐃 𝐋𝐄𝐀𝐒𝐇 𝐒𝐄𝐓 – Ecobark Comfortable pet harness leash set Ultra Soft breathable and Highly Durable Eco-Friendly Dog Harness and Leash No Fade Straps Made from Recycled Water Bottles. Innovative No-Choke Design Protects Pet's Fragile Trachea and Throat with Extra Plush Piping Around the Neck Opening. Please attach the lead to the back D-ring of the dog vest.

🐕 𝐂𝐇𝐎𝐊𝐄 𝐅𝐑𝐄𝐄, 𝐍𝐎 𝐏𝐔𝐋𝐋 | 𝐒𝐏𝐄𝐂𝐈𝐀𝐋 𝐃𝐄𝐒𝐈𝐆𝐍𝐄𝐃 𝐏𝐀𝐓𝐓𝐄𝐑𝐍 – Dog harness has D-ring at back that facilitates casual walks, jogging, hiking, etc. Attach the dog leash to sturdy metal D-ring. Beautiful Striped Pattern design makes your pet more fashionable and charming while walking outside. It is easy to see that your pet is unique. Dog Leash is lightweight for casual walking/jogging.

🐕 𝐀𝐓𝐓𝐄𝐍𝐓𝐈𝐎𝐍! 𝐌𝐄𝐀𝐒𝐔𝐑𝐄𝐌𝐄𝐍𝐓𝐒 | 𝐒𝐈𝐙𝐈𝐍𝐆 – Ecobark Pet Dog harnesses are a different and more innovative design, so please do not base sizing off of other companies sizing. Animals come in all shapes and sizes. Therefore, please measure using a measuring tape for the perfect fit. Quick-release buckles provide hassle-free wearing. Your pets will love the easy-to-wear harness.

🐕 𝐇𝐄𝐀𝐕𝐘-𝐃𝐔𝐓𝐘 & 𝐃𝐔𝐑𝐀𝐁𝐋𝐄 – Dog Harness & Leash Set is made of heavy-duty and durable material. The high-quality buckle fastens the D ring on the harness securely, and the stainless steel clasp that hooks on the harness firmly to provide you the best control on your pets. 𝐌𝐎𝐑𝐄 𝐀𝐅𝐅𝐎𝐑𝐃𝐀𝐁𝐋𝐄 𝐏𝐀𝐂𝐊𝐀𝐆𝐄𝐒: This product is a set combination. Your order includes two products: harness and dog leash.

🐕 𝐆𝐑𝐄𝐀𝐓 𝐅𝐎𝐑 𝐖𝐀𝐋𝐊𝐈𝐍𝐆 & 𝐎𝐔𝐓𝐃𝐎𝐎𝐑 𝐀𝐂𝐓𝐈𝐕𝐈𝐓𝐈𝐄𝐒 – Dog Harness and Matching Leash Combo Set is easy to put on your pet and very secure soft double padded. Striped dog vest halter is fully adjustable on the neck and chest of your pet, suitable for small snd medium, and large dogs. Great for Walking, Running, and Hiking. Breathable for all Outdoor Activities, Hugs the dog with a Flexible Air-Mesh Which Maintains your Dog's Natural Movements.
---
1 product